Program keanggotaan Young Living sangat menguntungkan anggota.
Belanja dengan jumlah tertentu, bisa mendapatkan hadiah GRATIS. Setiap bulan, hadiahnya berbeda-beda sesuai promo dari Young Living
Belanja setiap bulan dengan jumlah kira-kira 1,7 juta minimal dan akan mendapatkan hadiah di bulan 4, 7, 10, 13. Kemudian, setiap tahunnya akan mendapatkan hadiah eksklusif essential oil yang tidak dijual.
Belanja setiap bulan dengan jumlah kira-kira 850 ribu minimal dan akan mendapatkan poin rebate hingga 25% yang bisa ditukarkan produk Young Living secara GRATIS.
Dengan rutin 1,7 juta per bulan, akan mendapatkan hadiah eksklusif untuk member dibawah naungan Love Life Love Oil
Dan kamu akan mendapatkan produk berkualitas ASLI dari Young Living yang bisa dipakai buat kebutuhan sehari-hari - dari anak sampai orang tua; dari batuk pilek sampai hormon wanita. Produk Young Living bisa dipakai untuk bekerja, belajar, fokus, memasak, bebersih, dan banyak lagi.
Keanggotaanmu juga bisa mendapatkan komisi TIADA BATAS dari Young Living. Gabung jadi member dan dapatkan edukasi tentang bisnis Young Living di grup atau langsung dengan leader masing-masing.
Perbedaan dari belanja rutin (ER) dan belanja sesekali (SO)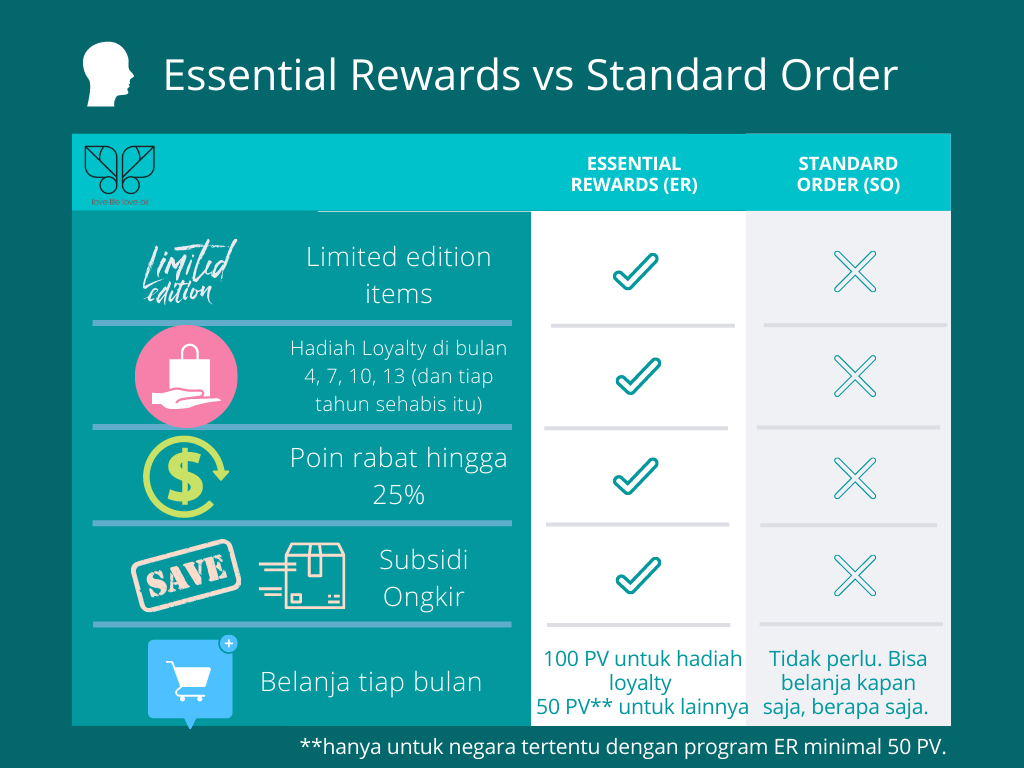 Panduan hadiah yang bisa didapat kalau belanja sekitar 1,7 juta per bulan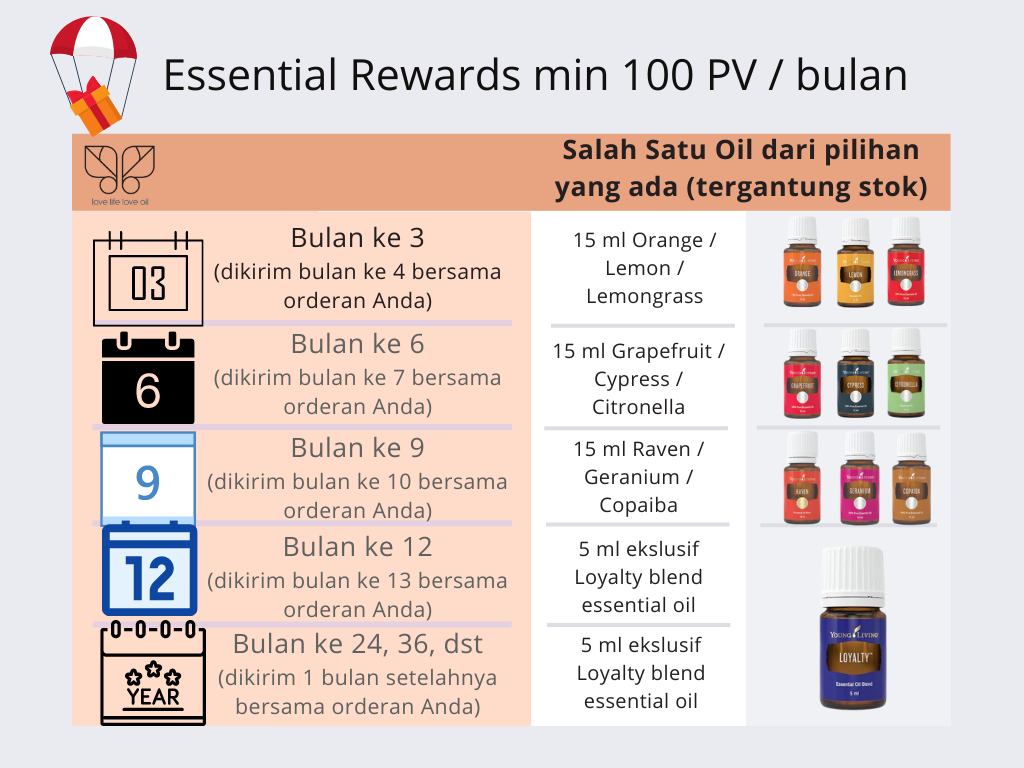 KESEMPATAN
yang bisa didapat kalau belanja sekitar 1,7 juta per bulan (sekitar 100 PV)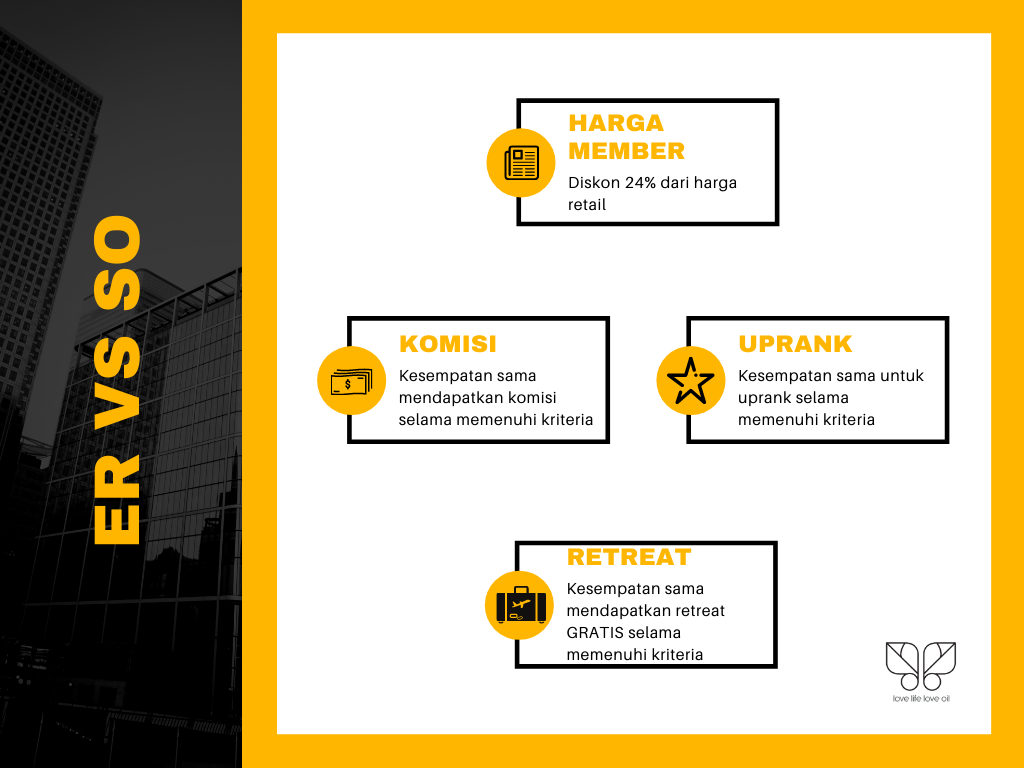 Dan yang paling worth adalah poin rabat sampai 25% dengan panduan sebagai berikut. Jika belanja berturut-turut 1,7 juta (sekitar 100 PV) per bulan tanpa ada yang bolong, ini poin rabat yang bisa didapat.
Bulan 1 - 3 belanja rutin ------- mendapatkan 10% poin rabat
Bulan 4 - 24 belanja rutin ---- mendapatkan 20% poin rabat
Bulan 25 keatas belanja rutin mendapatkan 25% poin rabat




Apa yang bisa dilakukan dengan poin yang dikumpulkan? Poin ini sama dengan produk PV yang diasosiasikan ke setiap produk.

Contoh: Lemon essential oil seharga Rp 185.000 dengan produk PV 11,5

Andi belanja 100 PV di bulan 1, maka Anda akan mendapatkan poin rabat ( = PV) sebanyak 10 PV

Bulan 2, belanja 50 PV, maka Andi akan mendapatkan poin sebanyak 5 PV




Total poin Andi = 15

Maka bisa ditukarkan dengan Lemon GRATIS worth Rp 185K

Andi cukup membayar biaya kirim.




Catatan penting:


Poin rabat bisa ditukarkan setelah 2 bulan belanja berturut-turut
Poin rabat hanya bisa didapatkan 1x setiap bulan
Untuk mendapatkan poin rabat, harap bergabung di program ER bulanan di tab virtual officemu.

Anda bisa stop ER kapan saja dengan klik "Berhenti ER" di virtual office bagian ER bulanan TANPA BIAYA PENALTI




Masih bingung? Klik

DISINI

untuk dibantu oleh member managernya L3O ya.




Berikut contoh produk yang bisa didapat GRATIS dengan menukarkan poin rabat
4 HAL PENTING

tentang keanggotaan Young Living

Berlaku INTERNASIONAL. Member bisa belanja di negara mana saja yang ada kantor Young Living. Member juga bisa redeem di beberapa negara yang memberikan kemudahan untuk redeem poin rabat. Contoh: Andi adalah member Young Living (YL) Indonesia (ID). Andi sedang jalan-jalan ke Singapura dan ingin membeli produk suplemen. Andi bisa ke kantor Young Living untuk BELANJA produk yang tersedia di YL SG dengan detail keanggotaan dia yang berasal dari YLID.
Keanggotaan YL berlaku 1 tahun dan selalu bisa diperbaharui dengan belanja minimal 850rb / tahun
Poin rabat hanya bisa didapat oleh member yang belanja di NEGARA KEANGGOTAAN masing-masing
Setiap anggota bisa menjadi ENROLLER dan SPONSOR untuk member baru di negara MANA SAJA. Contoh: Andi ingin mendaftarkan teman dia yang berada di Malaysia. Andi bisa menjadi Enroller dan Sponsor temannya untuk YL Malaysia meskipun Andi adalah member YLID
Masih ingin tanya-tanya bisa whatsapp saya atau DM saya di instagram . Grup kita adalah komunitas terdiri dari kumpulan orang yang peduli dengan kelangsungan alam, bahan yang tidak merusak ecosystem serta badan, kualitas kesehatan anak dan keluarga, dan pengembangan diri. Gabung dengan kita dalam perjalanan ini.

"Young Living is one of few companies that gives generous free products!"
YES, that's one of the perks of being Young Living Member. There are 3 types of customers: retail customer (with the least benefit of all), standard order customer, and essential rewards customer.
In this article, we will discuss about the later two.
DIFFERENCE BETWEEN ESSENTIAL REWARDS VS STANDARD ORDER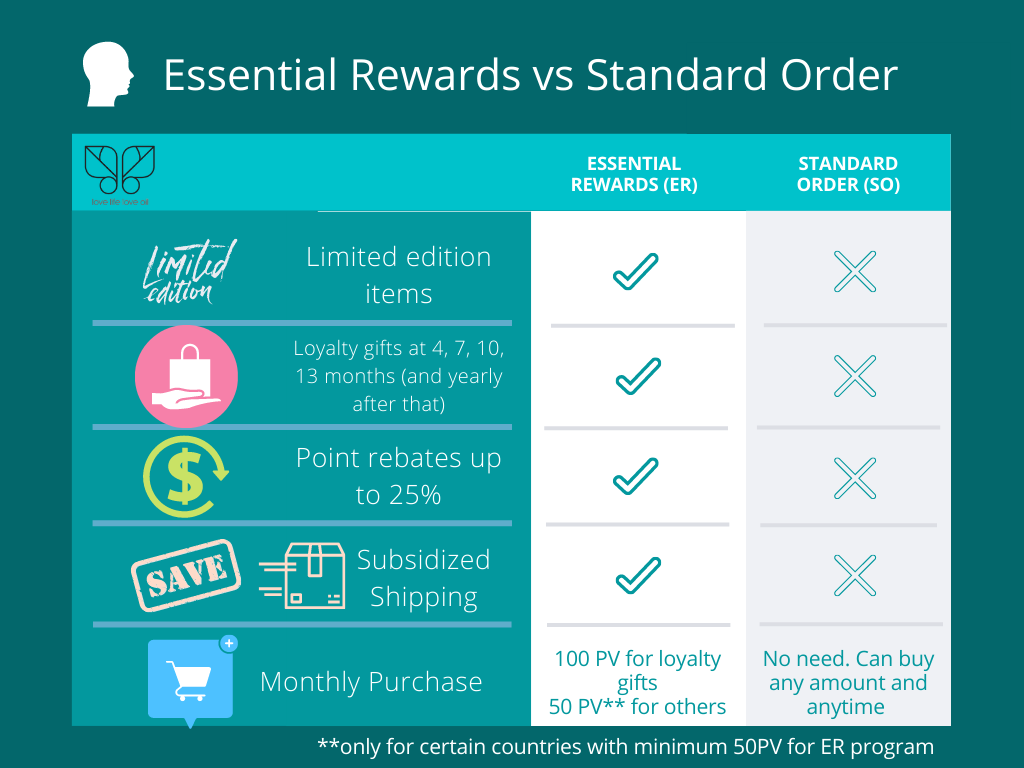 SIMILARITY BETWEEN ER AND SO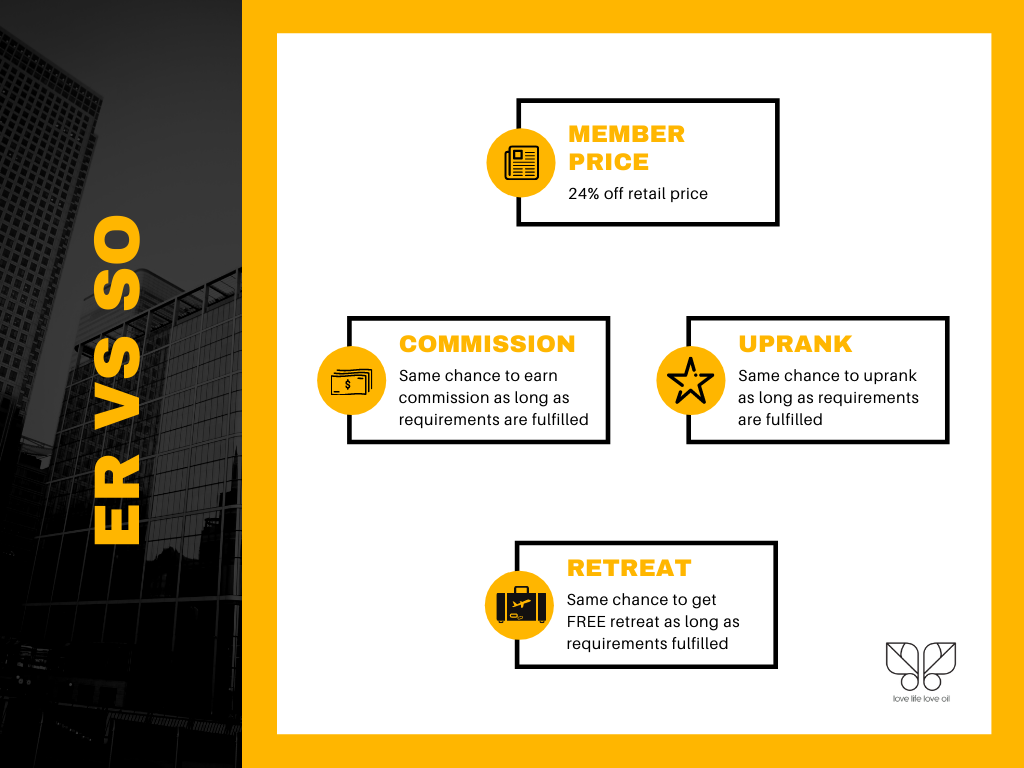 Depending on your need, you can toggle between ER and SO repeatedly with
no penalty fee
involved.
If you want to know more about how to join as member to earn commission / uprank / get free retreat(s), don't hesitate to contact me here.
Young Living USA / International Markets with no office
Please visit this page to check out the membership kit. It's as low as USD 35 with free Young Living products inside.
Young Living Singapore
Please check out this to check many kinds of membership kits. The specialty kits are wonderful to those who want to try Young Living.
Do contact me here if you want to know more about membership, loyalty gifts as every market may offer different incentives.
4 important points
about Young Living membership
It applies INTERNATIONALLY. Members can purchase and redeem from countries other than the registered membership.
Membership can be renewed with just 50PV purchase/year (essential rewards members don't need to worry about this).
Essential Rewards members can only earn point rebates from his/her membership country.
Every member can be enroller or sponsor for other members even though they reside in

difference countries

.
You can contact me for further info at my email
deny.sentosa@gmail.com
if you need details on the membership or memberships from other countries.
Do not hesitate to contact me for further info if you are interested in ordering.
Click HERE if you are ready to be member.
(Crown Diamond Leader #1415910)
Whatsapp (+65 8889-0057) HERE
email: deny.sentosa@gmail.com
Want to start using the product? Click HERE to buy.
Feel free to ask me questions in whatsapp or DM in my instagram . Our group consists of people who care about sustainability, ingredients that do not harm ecosystem and our bodies, holistic wellness in kids and family, as well as self growth. Join us in this journey.