Apr 5, 2018 06:10 AM Central
Deny Sentosa
#ALERGEN, #ALLERGY, #BACA, #BATH, #ESSENTIAL, #FRAGRANCE, #GEL, #KIDSCENTS, #KULIT, #LABEL, #MSM, #OIL, #PARABEN, #PARFUM, #PARFUME, #PEWANGI, #READ, #SABUN, #SLS, #YOUNG LIVING, ANAK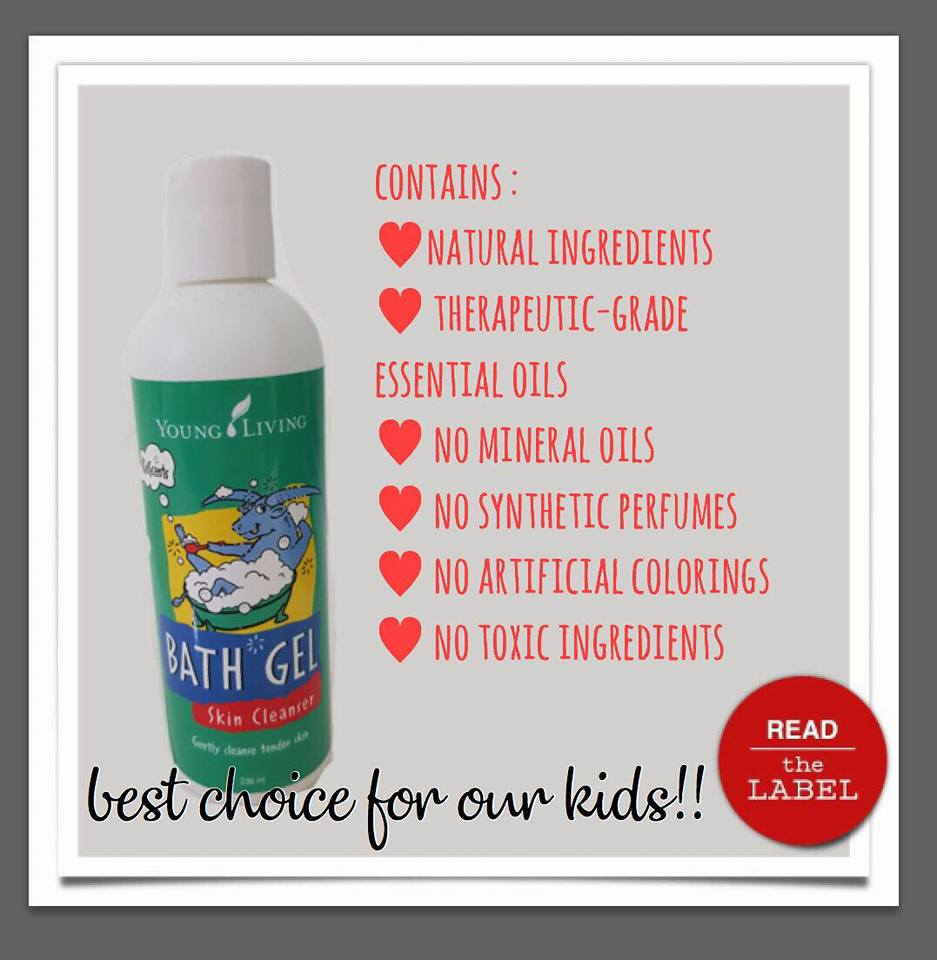 Masih ingat, beberapa tahun silam ada artikel tentang satu brand sabun baby, sebut saja "XX", yang bilang bahwa bahan-bahannya gak aman dan dapat menyebabkan cancer? Nah ketika itu, aku bersyukur sekali karena kebetulan aku gak pake XX untuk sabun nya anakku. Aku percayakan kepada merk "YY", karena dari kecil aku pake dan wanginya (ketika itu) menurutku lembut sekali.
Sampai ketika setelah melahirkan anak ke 2, gatal-gatal dan belah-belah di kulit saya menjadi-jadi, terutama di area telapak tangan. Singkat cerita, tidak lama setelah itu saya memutuskan untuk menjadi anggota Young Living dan karena saya ada di komunitas yang tepat, saya tidak hanya belajar mengenai essential oil, tapi juga belajar mengenai hidup sehat alami dan belajar menerapkan chemical-free lifestyle.
Ketika tangan ku gatal-gatal dan belah-belah tidak karuan itu, saya sendiri tahu itu karena kimia jahat yang ada di dalam deterjen dan toiletries yang saya gunakan sehari-hari. Tapi, keputusan saya dulu, saya hanya mengganti deterjen dan toiletries saya aja, tidak berpikir untuk ganti yang anak-anak punya, saya pikirnya 'toh anak-anak saya baik-baik saja' dan ini kan sabun baby yang harusnya bahan-bahannya aman. Ternyata, setiap kali habis mandiin anak saya, tangan saya langsung gatal-gatal. Setelah itu saya sadar, selama ini saya asal pakai saja tanpa tahu isinya apa saja. Mulailah saya mem
#bacalabel
, saat dilihat ada SLeS dan parfum-nya. Setelah kejadian itu aku lebih aware untuk googling apa saja efek samping kalau terkena bahan-bahan itersebut.
Dan baru aku berpikir, "bahaya nih, saya yang cuma ngelapin ke badan anak-anak aja, setelahnya gatal-gatal. Gimana anak saya yang satu tubuhnya saya berikan sabun ini. Mungkin dia tidak langsung gatal-gatal seperti saya, tapi semua yang diapply di badan mereka kan masuk ke pembuluh darah, terus efek sampingnya gimana yaa….?"
Sejak saat itu saya langsung ganti sabun anak-anak jadi Kidscents Bathgel, yang bahan-bahannya lebih aman dan alami. Saya sempat melakukan riset kecil mengenai kandungan sabun lama dan Kidscents Bathgel.
Sumber yang saya gunakan: Google dan situs EWG Skin Deep (
https://www.ewg.org/skindeep
). Teman-teman juga bisa pakai situs EWG di atas untuk melihat, apakah kandungan dari produk yang digunakan sudah cukup aman atau belum.

Hasil riset saya, beberapa kandungan dari sabun baby lama saya di bawah ini perlu kita perhatikan:
1. SLeS: Sodium Laureth Sulfate, sudah jadi rahasia umum SLeS ini dipakai supaya saat mandi lebih seru karena busa nya banyak. Benar, saat mandi nya seru, tapi silakan cari lebih lanjut efek samping SLeS. Salah satu yang saya temui adalah dapat menyebabkan iritasi pada kulit dan mata. (yah.. pantes saya gatal-gatal)
2. Cocamidopropyl Betaine (CAPB): Beberapa studi menunjukkan bahwa kandungan ini menyebabkan reaksi alergi di beberapa penggunanya, dimana pada tahun 2004 CAPB ini mendapatkan award sebagai "Allergen of the Year" (
https://en.wikipedia.org/wiki/Allergen_of_the_Year
)
Nah, tidak heran mengapa beberapa temanku seringkali mengatakan kalau tangannya itu alergi sabun. Menurutku, kalau sudah tahu sumbernya itu gara-gara sabun, sebaiknya kita cari sabun lain dengan bahan yang lebih aman.
3. Perfume: Saya kutip dari buku Living Balanced (halaman 168), "Fragrance on a label can indicate the presence of up to four thousand separate ingredients, many toxic or carcinogenic". Tahu kah teman-teman bahwa ketika kita mencium parfum, pewangi ataupun essential oil, maka zat-zat yang terkandung di dalamnya itu akan langsung masuk ke system limbik kita?
Beruntung, Kidscents Bathgel tidak memiliki satu pun dari ketiga kandungan di atas. Malahan punya kandungan dimethyl sulfone alias MSM yang sangat baik untuk kesehatan kulit.
Yuk, kita cek dan ricek lagi label yang ada di sabun anak-anak apakah sudah aman sentosa… Mari memilih yang terbaik demi kesehatan jangka panjang keluarga kita.
(Crown Diamond Leader #1415910)
Whatsapp (+62-821-7734-4515) disini
email: deny.sentosa@gmail.com
Sudah tidak sabar ingin pakai? Silakan klik disini.
Masih ingin tanya-tanya bisa whatsapp saya atau DM saya di instagram . Grup kita adalah komunitas terdiri dari kumpulan orang yang peduli dengan kelangsungan alam, bahan yang tidak merusak ecosystem serta badan, kualitas kesehatan anak dan keluarga, dan pengembangan diri. Gabung dengan kita dalam perjalanan ini.