May 7, 2017 02:35 AM Central
Deny Sentosa
#ALAMI, #APEL, #APPLE, #BASED, #BEBAS, #BERSIH, #BROWN, #CEGAH, #CLEAN, #COKLAT, #EO, #ESSENTIAL OIL, #FRUIT, #INFUSED, #KIMIA, #KUNING, #NONTOXIC, #OKSIDASI, #OXIDATION, #PLANT, #PREVENT, #SEHAT, #SPRAY, #THIEVES, #VEGETABLE, #VEGIES, #YOUNG LIVING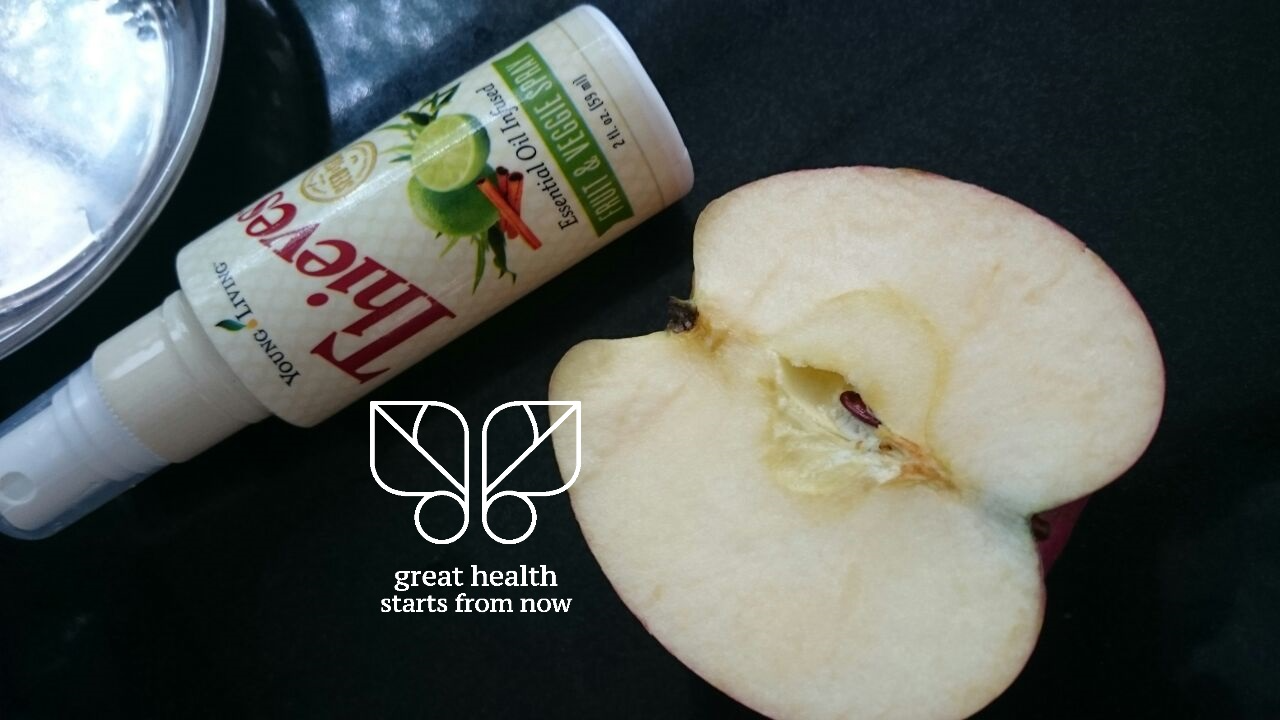 Beberapa tahun lalu, ketika mama saya mempersembahkan apel potongan ke suami, suami dengan lahap makan, gak berapa lama dia melihat saya dengan muka meringis "ih, asin. gak enak"
hal sama terjadi ke anak saya. Mama saya potong pear fav dia. dia udah semangat tusuk dan makan…. gak berapa lama Puih…. " gak enak mama"
saya dengan pasrah, me-lap lantai dan makan sisa pear dia yang masih banyak (karna suami juga gak mo sentuh, hiks)
Kenapa asin? Yah itulah… orang zaman dulu kan suka rendem garem biar buah2an gak menjadi coklat karena oksidasi. Apel dan Pear itu paling gampang jadi coklat. baru saja 10 menit, dah mulai coklat2. Terus anak donk, mulai ngom, "mama, coklat, gak mau…." (untung dak diremes2 lembek, udah kubuang atuh). Yang ini, papanya masih mo makan… sukurlahhhh gak jadi tong sampah
Nah, alternatif laen, adalah rendem buah/sayur dalam air lemon eo. sayur dan buah jadi segar dan crunchy juga tidak gampang coklat. Saya juga telah coba…. hasilnya
anak makan bentar terus bilang "mama, udah cukup." aku liat mukanya…… dia gak suka dicampur aer lemon. hiks hiks…..
Tenang tenang… saya lum menyerah. Young Living mengeluarkan produk baru. Thieves Fruits and Vegetable Spray (spore ada versi SOAK).
Sebelumnya, saya ada post, saya cuci anggur pakai ini, wow, anggurnya kerasa segar dan gak ada rasa spraynya sama sekali…. intinya anggur lah tanpa rasa lilinnya. dan kotoranny pun keliatan di air cucian.
hari ini, karena ada pelajaran nyanyi soal buah dan apel, anak saya tiba2 saja keluarin apel dari kulkas dan bilang mo makan apel. Suwer…. dia gak pernah minta iniiiiii
mana minta apel fuji yang gede. yaaaa kupikir dia cmn mood2an, makan gak abis toh. jd aku potong aja setengah, kasih dia. setengahnya karena males pake cling wrap, lemon eo ato garen, saya spray aja pake fruits vegie spray, bilas terus simpen kulkas.
Setelah abis 1/2 buah, dia minta lagi. katanya enak…. Saya buka kulkas, ehhhh, apelnya gak coklat loh. padahal ada 30-40 menit kayaknya.
Yah cocok lah buat saya yang serba pengen praktis. ini spray mayan tahan lama loh. dah beberapa bulan (meski cuma buat cuci anggur dan sayur, mayan lah).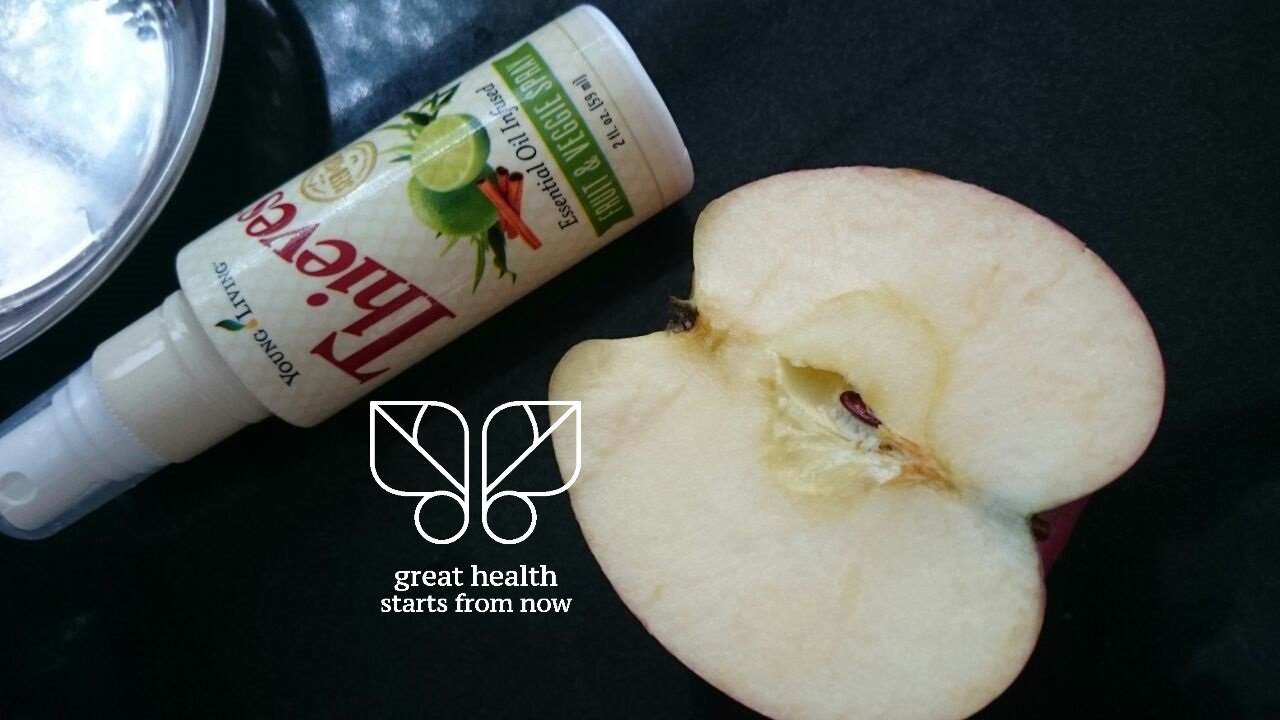 English version
Who likes to eat fruits soaked in salted water? Not my husband, not my girl. How about soaked in lemon eo? Not my girl….
Today my girl suddenly asked for cut
apple
. FUJI
apple
somemore. She seldom finished 1 full
apple
, so I looked at her, thought she could not finish 1 whole
apple
, I cut half
apple
for her thinking I could eat if she din finish the cut
apple
.
The other half, I spray with Thieves Fruits and Vegies Spray, rinse, and just put in the fridge. I know I know…..
I just want quickly do my other stuff.
Surprisingly she said she wanted more. I opened fridge (30-40 mins later),
apple
was free of brownish color, cut and presented to her. And yes, she finished it all.
This spray last pretty long. I have used this for few mths for my fruits and vegies wash (yeah, I don't cook that much).
(Crown Diamond Leader #1415910)
Whatsapp (+62-821-7734-4515) disini
email: deny.sentosa@gmail.com
Sudah tidak sabar ingin pakai? Silakan klik disini.
Masih ingin tanya-tanya bisa whatsapp saya atau DM saya di instagram . Grup kita adalah komunitas terdiri dari kumpulan orang yang peduli dengan kelangsungan alam, bahan yang tidak merusak ecosystem serta badan, kualitas kesehatan anak dan keluarga, dan pengembangan diri. Gabung dengan kita dalam perjalanan ini.
Want to start using the product? Click this to buy.
Feel free to ask me questions in whatsapp or DM in my instagram . Our group consists of people who care about sustainability, ingredients that do not harm ecosystem and our bodies, holistic wellness in kids and family, as well as self growth. Join us in this journey.