Nov 2, 2015 04:01 PM Central
Deny Sentosa

Many of us use deodorant to prevent unpleasant smell when we perspire. I was guilty of that few years back. Then I realized how the ingredients inside commercial deodorants would create havoc in the hormonal, lymphatic, immune, and other body systems sooner or later. Some of the common ingredients found in the commercial deodorants are:
Aluminium. It has been linked to breast cancer in women and increased risk of Alzheimer's disease.
Propylene glycol. It is a petroleum-based material and it has slick consistency. Studies have shown that it can cause damage to the central nervous system, liver and heart in large quantities.
Parabens. It can disrupts our delicate hormonal system. Paraben exposure has also been linked to birth defects and organ toxicity.
Phthalates. High phthalate blood and urine levels in women of child bearing age have been linked to a higher risk of birth defects. This suggests that phthalates may disrupt hormone receptors as well as increase the likelihood of cell mutation.
Triclosan. It is utilized as the odor killing part of antiperspirants for its anti-bacterial properties. It is also commonly used in antibacterial wipes, soaps, and hand gels. It is actually classified as a pesticide by the FDA and also classified as a probable carcinogen by the Environmental Protection Agency.
I have stopped using commercial deodorants few years back. I turn to Young Living deodorants and essential oils.
Here are
few examples of YL products which you can use as deodorant
.
INGREDIENTS
Cocos Nucifera (Coconut) oil, White Beeswax, Pure Ester 34, Pure Ester 40, Zinc Oxide, Citrus Limon (Lemon)† Peel Oil, Pelargonium Graveolens (Geranium)† Flower Oil, Rosmarinus Officinalis (Rosemary)† Leaf Oil, Coriandrum Sativum (Coriander)
† Seed Oil, Lavandula angustifolia (Lavender)† Oil, Citrus Aurantium Bergamia (Furancoumarin-free Bergamot)† Peel Oil, Tocopherol (Vitamin E) Melaleuca Alternifolia† (Tea Tree) Leaf Oil, Melaleuca Quinquenervia Oil (Niaouli)† Oil, Cananga Odorata (Ylang Ylang)† Flower Oil, Syzgium Aromaticum (Clove)† Oil.
Made with Young Living Therapeutic Grade™ essential oil.
INGREDIENTS
Cocos Nucifera (Coconut) oil, White Beeswax, Pure Vegetable Esters, Zinc Oxide, Tocopherols (Vitamin E), Syzygium Aromaticum (Clove)†, Citrus Medica Limonum (Lemon) Fruit Oil, Mentha Piperita (Peppermint)†, Rosmarinus Officinalis (Rosemary), Eucalyptus Radiata† Leaf Oil, and Abies Concolor (White fir) Oil.
Made with Young Living Therapeutic Grade™ essential oil.
My favorite is

Lemon

Essential Oil or

Lime

Essential Oil. I like the smell of Lime best. It's refreshing and relaxing. It makes me calm and happy.
Beside great aromatherapy effect on my brain and hormone, Lime is good to support healthy immune system as well as skin health. Citrus oils are also known to whiten the skin.
The
precaution is not to expose the skin under the sun minimally 12 hours upon application
. Well, under arm is not going to be exposed anyway. At least, mine is not.
I notice a whitening effect after 1-2 months usage. It's a great bonus as I initially only wanted to have pleasant smell. All in all,

all benefits in one bottle

.
Thing to note though, under arm has many lymph nodes and it could be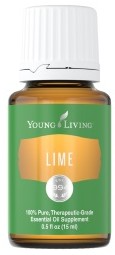 sensitive to some. If you are thinking to use essential oils directly, do prepare carrier oils nearby in the case sensitivity occurs (read this for safety usage of YLEOs).
(Crown Diamond Leader #1415910)
Whatsapp (+62-821-7734-4515) disini
email: deny.sentosa@gmail.com
Sudah tidak sabar ingin pakai? Silakan klik disini.
Masih ingin tanya-tanya bisa whatsapp saya atau DM saya di instagram . Grup kita adalah komunitas terdiri dari kumpulan orang yang peduli dengan kelangsungan alam, bahan yang tidak merusak ecosystem serta badan, kualitas kesehatan anak dan keluarga, dan pengembangan diri. Gabung dengan kita dalam perjalanan ini.
Want to start using the product? Click this to buy.
Feel free to ask me questions in whatsapp or DM in my instagram . Our group consists of people who care about sustainability, ingredients that do not harm ecosystem and our bodies, holistic wellness in kids and family, as well as self growth. Join us in this journey.