Jan 9, 2018 02:01 AM Central
Deny Sentosa
#ABUDANCE, #BELIEF, #BELIEVE, #CLARITY, #DIRI, #EMOSI, #ESSENTIAL, #FOKUS, #HARAPAN, #INDONESIA, #LIMIT, #MAGNIFY, #NEGATIF, #OIL, #PERCAYA, #POSITIF, #POTENSI, #PURPOSE, #YOUNG LIVING, #YOUR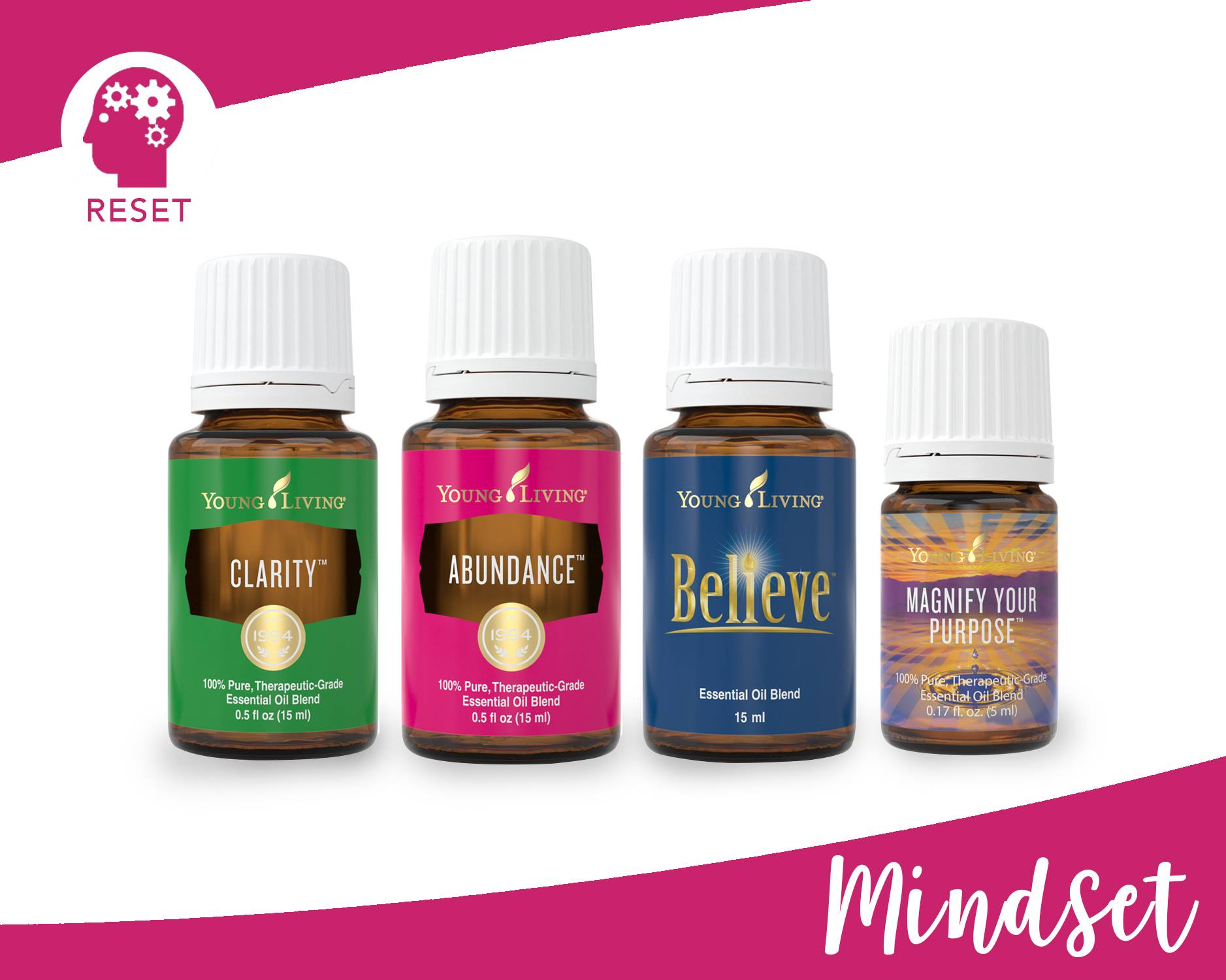 Kita semua memiliki "suara kecil" di dalam kepala, yang dari waktu ke waktu mengatakan bahwa diri kita tidak cukup baik, tidak akan pernah sukses, apapun yang kita lakukan tidak akan berhasil, dsb.

Limiting belief dan pola pikir seperti ini, biasanya terbentuk karena pengaruh lingkungan, apa yang kita dengar atau alami saat kecil dan terbawa menjadi kepercayaan dan norma hingga dewasa. Limiting belief menghambat kita untuk mencapai potensi yang terbaik dan secara sadar ataupun tidak, menarik orang-orang, kejadian dan hal-hal lain dengan pola yang serupa kearah kita.

Reset 3 BULAN ini dapat membantumu membebaskan diri dari keyakinan, pola, dan pendirian yang terbatas (Limiting Beliefs, Patterns, and Convictions).

PRODUK YANG KAMU BUTUHKAN:
Clarity 15 ml
Believe 15 ml
Magnify Your Purpose 5 ml
Abundance 15 ml
.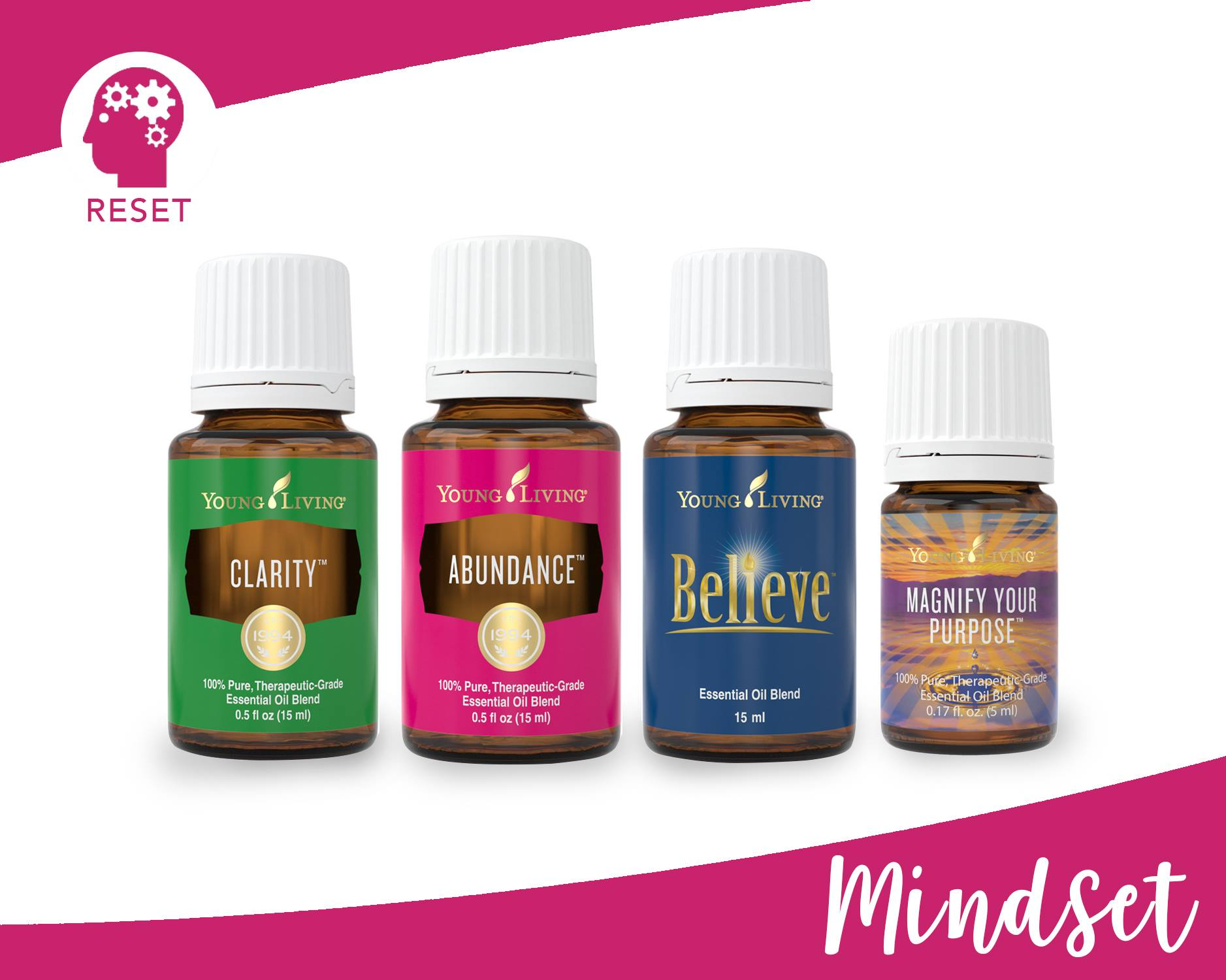 BULAN ke-1: CLARITY & BELIEVE
Mulai dengan Clarity dan Believe untuk membantu kita menemukan dengan jelas apa yang kita inginkan dan kepercayaan bahwa apa yang kita inginkan dapat dicapai.

CLARITY
Clarity akan membantu kita yang mengalami kesulitan untuk belajar hal-hal baru atau mengubah kebiasaan. Clarity membantu kita untuk fokus secara mental, yang diperlukan untuk melakukan perubahan dan menerima pelajaran di level yang berbeda.
Oleskan setidaknya sekali sehari di pelipis / ubun-ubun, hirup aromanya. Ulangi kapan saja kamu inginkan sepanjang hari. Encerkan jika kamu berkulit sensitif.
ps.
Clarity mengandung essential oil yang bersifat photo-sensitive, jangan dioleskan di bagian kulit yang akan terekspos sinar matahari dalam waktu 12 jam.

BELIEVE
Believe memberikan ketenangan dan membantu kita menyadari potensi yang kita miliki, yang dapat kita gunakan untuk menjalani hidup yang lebih memuaskan (fulfilling). Believe membantu kita menyadari bahwa kita bisa mengubah situasi dan membangkitkan kepercayaan diri bahwa kita bisa melakukannya.
Believe akan melepaskan emosi-emosi seperti keputusasaan dan ketidakmampuan yang biasanya disimpan di organ paru-paru (berdasarkan pengobatan tradisional Cina) dan membangkitkan kestabilan emosi dengan mengembalikan harapan dan keinginan yang mungkin memudar.
Oleskan satu tetes di bagian dada (heart chakra) dan hirup aromanya di pagi dan malam hari, atau kapan saja kamu inginkan sepanjang hari.

BULAN ke-2: MAGNIFY YOUR PURPOSE
Di bulan ke-2, ada kemungkinan kamu merasa ingin berhenti melakukan rutinitas ini atau mencari-cari alasan untuk tidak "mengejar" yang kamu inginkan.
Hal ini dapat disebabkan oleh emosi dan pola lama yang masih tersimpan di dalam diri kita. Lanjutkan rutinitas yang telah kamu lakukan dan mulai lepaskan emosi dan pola-pola negatif tsb secara tuntas.

MAGNIFY YOUR PURPOSE
Magnify Your Purpose membantu kita mengatasi kebiasaan suka menunda, mentalitas sebagai korban (victim mentality) dan self-pity (mengasihani diri sendiri). Magnify Your Purpuse melindungi kita dari emosi-emosi negatif, membantu kita untuk melihat dan bergerak menuju tujuan yang ingin kita capai.
Gunakan Magnify Your Purpose saat kita melalui perubahan besar secara personal atau melewati transformasi spiritual. Magnify Your Purpose membantu kita mengatasi perasaan dipermalukan/direndahkan (humiliated), merasa tidak aman (insecurity) atau bingung , membantu kita melepaskan perasaan takut terhadap komitmen sehingga kita bisa bergerak maju dengan fokus dan tindakan.
Oleskan satu tetes di dada (heart chkara) di pagi hari dan kapan saja kamu inginkan sepanjang hari. Hirup aromanya. Encerkan jika kamu berkulit sensitif.
Saya pribadi suka mencampurkan Magnify Your Purpose dengan Castille soap sebagai sabun mandi sehari-hari

=)

BULAN ke-3: ABUNDANCE
Dan di bulan ke-3, saatnya menggunakan Abundance.
Abundance akan membantu menarik hal-hal (positif) yang sekarang kamu yakini dan siap untuk diterima. Tuliskan dengan jelas dan detil apa yang kamu inginkan, dan alami sendiri bagaimana Law of Attractions bekerja!
PS: cari tahu tentang "somatides" jika kamu ingin tahu lebih banyak tentang Law of Attraction.
ABUNDANCE
Abundance membantu menarik kelimpahan ke dalam hidup kita. Abundance memiliki frekuensi yang sama dengan otak kita, membantu melepaskan emosi-emosi seperti kekhawatiran dan pikiran bahwa kita kurang pantas, melepaskan diri dari mentalitas scarcity (kekurangan) dan kemiskinan.
Oleskan satu tetes pada tulang ekor (root chakra) di pagi dan malam hari. Hirup aromanya. Encerkan jika kamu berkulit sensitif.
(Crown Diamond Leader #1415910)
Whatsapp (+62-821-7734-4515) disini
email: deny.sentosa@gmail.com
Sudah tidak sabar ingin pakai? Silakan klik disini.
Masih ingin tanya-tanya bisa whatsapp saya atau DM saya di instagram . Grup kita adalah komunitas terdiri dari kumpulan orang yang peduli dengan kelangsungan alam, bahan yang tidak merusak ecosystem serta badan, kualitas kesehatan anak dan keluarga, dan pengembangan diri. Gabung dengan kita dalam perjalanan ini.