Jan 5, 2018 02:03 AM Central
Deny Sentosa
#CONFIDENCE, #DIRI, #EMOSI, #ESSENTIAL, #FEELING, #FEELINGS, #FINANSIAL, #FORGIVENESS, #HARMONY, #INNER CHILD, #KIT, #MAAF, #OIL, #PERCAYA, #PINEAL, #PITUITARY, #PRESENT TIME, #RELEASE, #SAKIT, #SICK, #STIMULASI, #VALOR, #YOUNG LIVING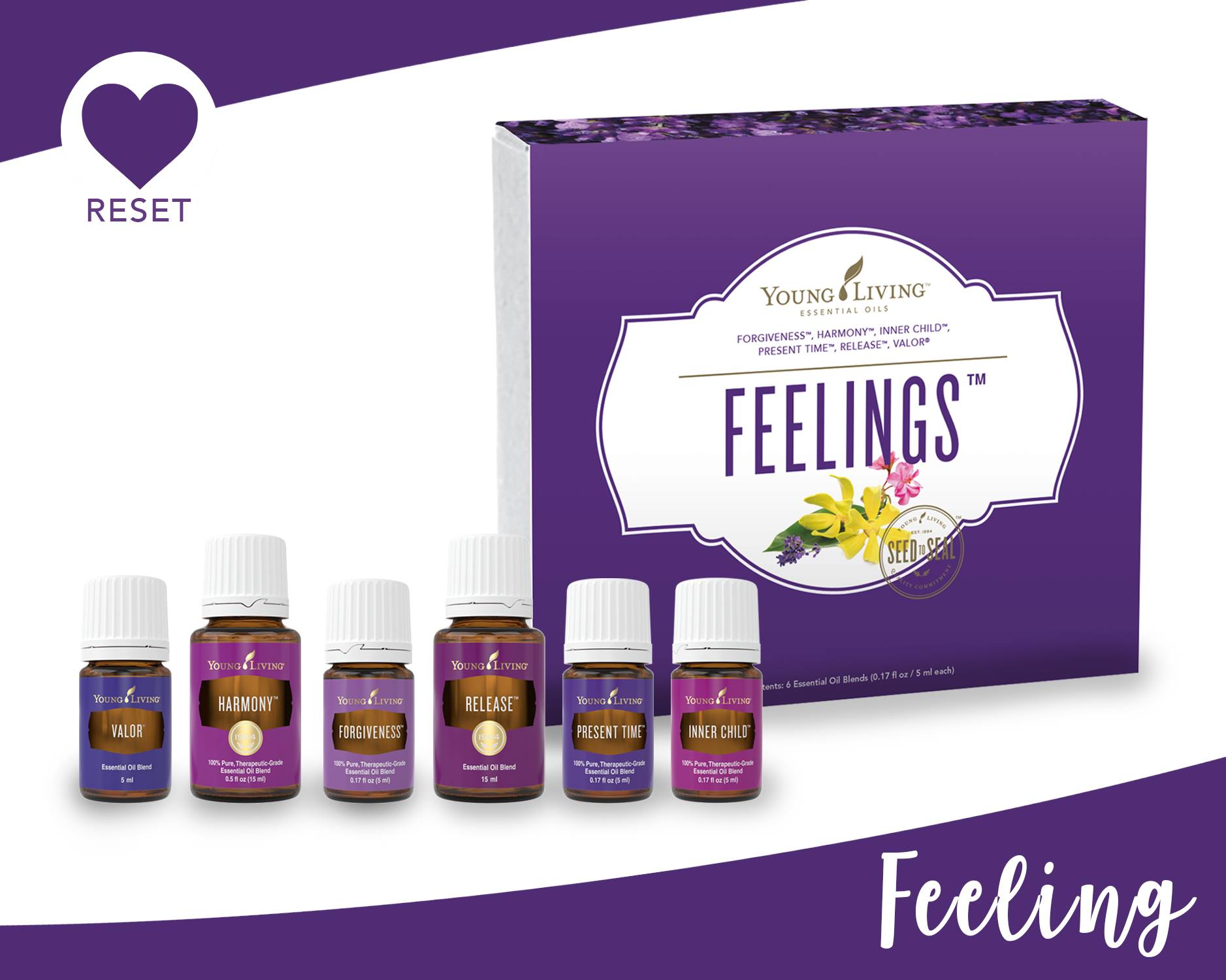 2nd. RESET YOUR FEELING – Diterjemahkan oleh Norce Putri.

Kamu mungkin sudah tahu bahwa emosi dan tubuh saling berhubungan. Pernah merasa sangat sedih hingga badan terasa sakit? Atau mungkin merasa gugup hingga perut mual? Emosi memiliki pengaruh yang sangat kuat pada tubuh kita.
Ketika kita tidak memiliki jawaban mengapa tubuh kita terasa berbeda tanpa alasan, saatnya mengecek, adakah emosi atau perasaan negatif yang terpendam yang perlu kita lepaskan?

Essential oil blend di dalam Feelings Kit membantu kita mengatasi perasaan negatif dan emosi yang terpendam -bahkan menyakitkan, agar kita dapat mengambil kembali kontrol atas hidup kita.
Reset your feeling dan ubah hidupmu dengan Feelings Kit selama 30 hari ke depan

=)

Ps. Emotional detoks akan sangat..well, emosional , jadi akan sangat baik jika orang yang dekat atau kamu percaya mengetahui apa yang akan kamu lakukan. You'll need their support and understanding

=)

PRODUK YANG KAMU BUTUHKAN:
The Feelings Collection, terdiri dari Harmony 5 ml, Forgivenes 5 ml, Inner Child 5 ml, Present Time 5 ml, Release 5 ml, Valor / Valor II 5 ml.
Setiap essential oil tsb juga dapat dibeli secara terpisah.

PROTOKOL 30 HARI DARI GARY YOUNG



VALOR


Gosokkan Valor di kedua telapak kaki pada malam hari. Layer dengan Highest Potensial (opsional). Kombinasi ini membantu menghapus pemikiran yang membatasi potensi kita. Valor menyeimbangkan dan menyetarakan energi tubuh, meningkatkan asupan oksigen ke kelenjar pineal (pineal gland), pusat kecerdasan dan intuisi.
Kamu akan bangun di pagi hari lebih percaya diri dan lebih siap untuk memulai hari.



HARMONY


Oleskan Harmony pada masing-masing titik chakra tubuh. Ada tujuh titik sepanjang tulang belakang: tulang ekor (Root chakra), di bawah pusar (Sacral chakra), di atas pusar (solar plexus), jantung (heart chakra), leher sekitar tiroid (throat chakra), di tengah alis (3rd eye chakra), ubun-ubun ( crown chakra)
Harmony menyeimbangkan sistem saraf parasimpatik dan simpatik yang memberikan kita kreativitas dan rasa percaya diri. "Kesalahan terbesar adalah tidak memiliki kepercayaan diri." kata Gary. "Orang yang tidak memiliki kepercayaan diri, tidak memiliki kehidupan."

FORGIVENESS
Oleskan Forgiveness sekitar pusar dengan tangan kanan, searah jarum jam beberapa kali sambil memikirkan situasi di mana kamu perlu memaafkan diri sendiri atau orang lain. Kita menyalahkan diri kita sendiri, tapi semua orang membuat kesalahan. Namun kita merasa sulit memaafkan kesalahan kita sendiri dan orang lain. Tidak memaafkan adalah salah satu akar yang paling umum dari penyakit fisik, mental dan spiritual. Tidak memaafkan tidak membuat orang lain sakit, tapi menyakiti diri kita sendiri. Kebaikan dari memaafkan adalah untuk diri kita sendiri.

Hal ini dapat kita coba lakukan dalam lima langkah.
(1) Maafkan diri sendiri yang telah membiarkan orang lain mempengaruhi kesehatan dan kebahagiaanmu.
(2) Maafkan orang lain atas segala luka yang mungkin mereka sebabkan pada kita. ( Tidak perlu dilakukan di hadapan orang yang ingin dimaafkan, tetapi lebih kepada penyesuaian dalam batin)
(3) Berikan izin kepada orang lain untuk memaafkan kita.
(4) Lihat sisi baik dari segala situasi.
(5) Bersyukurlah untuk pengalaman dan pelajaran yang diajarkan kepada kita. Bernafaslah dengan dalam dan oleskan Forgiveness ketika akan melalui langkah-langkah ini dan ulangi seperlunya untuk menghapus perasaan tidak bisa memaafkan.



RELEASE


Energi negatif masuk ke dalam darah, melewati organ hati untuk dibersihkan, dan di sini seringkali racun tetap terperangkap. Akibatnya, hati sering kali menjadi tempat penyimpanan amarah, kebencian, kesedihan, rasa cemburu, iri hati, dengki, kecanduan dan sejumlah perasaan perasaan destruktif lainnya. Oleskan beberapa tetes Release di area hati untuk melepaskan racun dari emosi negatif yang tersimpan. Minum banyak air dan lakukan Liver Cleanse.

PRESENT TIME
Ketika kita hidup (banyak memikirkan) di masa lalu atau di masa depan, kita menjadi tidak produktif di masa sekarang. Gunakan 3(tiga) tetes Present Time dengan membuat lingkaran searah jarum jam di telapak tangan dan oleskan di daerah timus (Thymus, di tengah dada). Selain membantu kita untuk fokus pada hari / saat ini, Present Time juga dapat membantu kita secara finansial, dengan meningkatkan kesadaran kita akan kelimpahan (abundance) yang kita miliki pada saat ini.

INNER CHILD
"When you are a child all things are possible. There are no limitations," says Gary Young. "When you find your inner child, you have found your true self. The child in you is your creativity."
Gunakan satu tetes Inner Child ke ujung ibu jarimu oleskan langsung di bawah hidung dan di belakang telinga. Secara energik, jahitan kranial akan terbuka dan menstimulasi kelenjar pineal, pituitary, dan daerah lain dari otak emosional yang berada tepat di atas langit-langit mulut kita. Berjalan mundur sambil melakukan ini ( ibu jari di mulut) mungkin terlihat bodoh, tetapi cara ini akan merubah rotasi panggul, memperpanjang tulang belakang, dan mengurangi tekanan di tulang belakang. Hasilnya, saluran saraf menjadi terbuka dan energi dapat mengalir lancar ke seluruh otak dan tubuh.

** penelitian Pubmed tentang pengaruh aroma pada perasaan Andahttps://www.ncbi.nlm.nih.gov/pubmed/18041606
Note dari saya: Saya dan anak saya sudah mengalami sendiri betapa emosi itu sangat mempengaruhi kehidupan sehari2. Oil favorit saya dan anak saya ketika sakit adalah Valor, Forgiveness, Harmony, dan kadang kala Present Time.
(Crown Diamond Leader #1415910)
Whatsapp (+62-821-7734-4515) disini
email: deny.sentosa@gmail.com
Sudah tidak sabar ingin pakai? Silakan klik disini.
Masih ingin tanya-tanya bisa whatsapp saya atau DM saya di instagram . Grup kita adalah komunitas terdiri dari kumpulan orang yang peduli dengan kelangsungan alam, bahan yang tidak merusak ecosystem serta badan, kualitas kesehatan anak dan keluarga, dan pengembangan diri. Gabung dengan kita dalam perjalanan ini.