Jan 7, 2018 02:00 AM Central
Deny Sentosa
#ANAK, #ANTIOKSIDAN, #ENERGI, #ENERGY, #ESSENTIAL, #GOJI, #INDONESIA, #MAKAN, #MINERAL, #NAFSU, #NINGXIA, #NUTRISI, #OIL, #PUREE, #RED, #VITAMIN, #WOLFBERRY, #YOUNG LIVING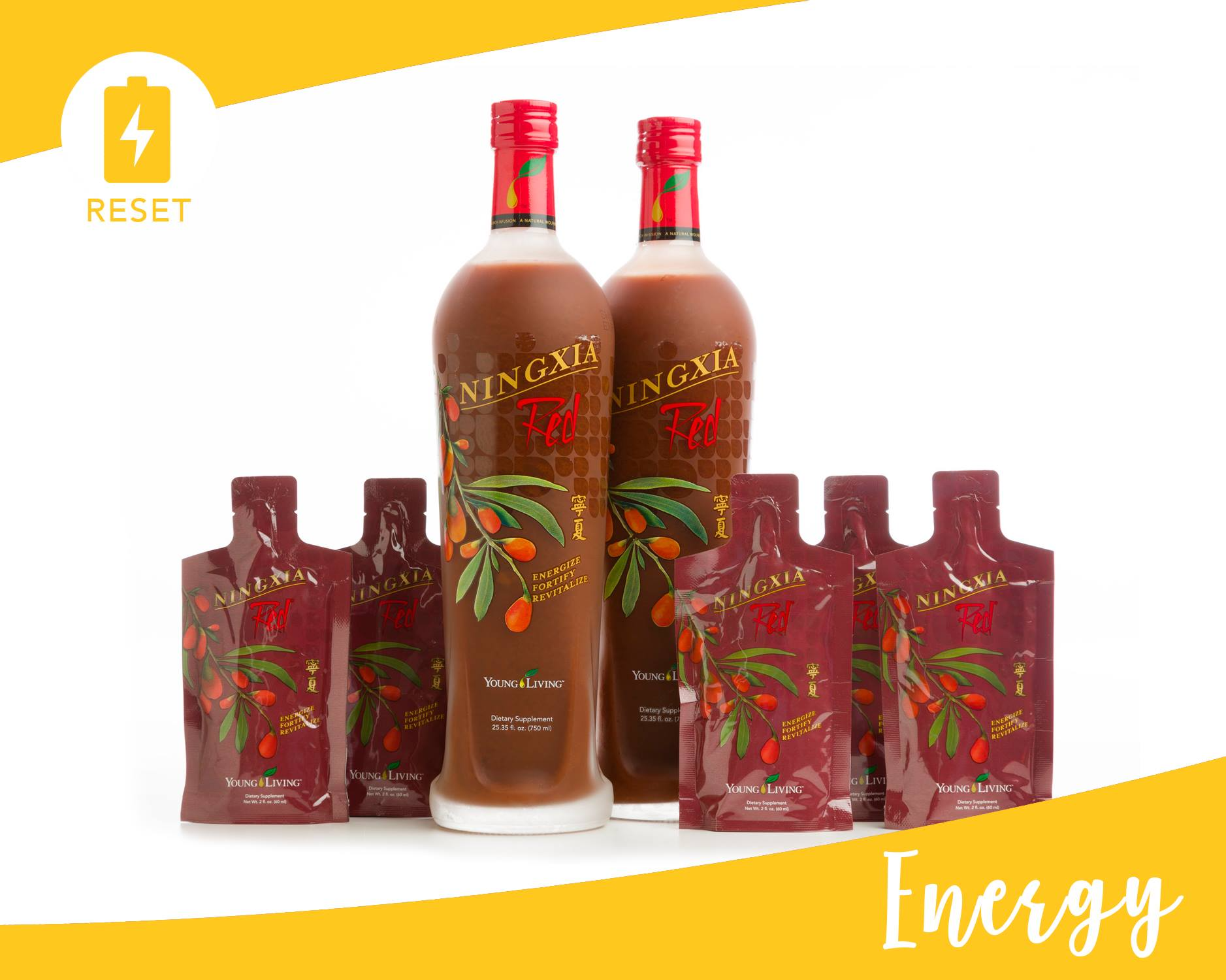 4th. RESET YOUR ENERGY – Diterjemahkan oleh Norce Putri.

Banyak orang yang sering merasa kekurangan energi karena berbagai alasan. Kurang istirahat, stress, kurang nutrisi, kurang olahraga, daya tahan tubuh rendah, dsb dsb. Tahun baru adalah waktu yang tepat untuk me-reset energimu. Caranya? Tantang dirimu untuk rutin mengkonsumsi Ningxia Red selama 30 hari ke depan dan rasakan perbedaannya!

Ningxia Red merupakan minuman antioksidan yang terbuat dari kombinasi wolfberry (goji berry) puree, jus delima (pomegranate), jus plum, jus cherry, jus blueberry & aronia, diperkaya juga dengan essential oils.

Berdasarkan hasil analisa Ningxia Institute of Nutrition, Ningxia wolfberry yang terkandung dalam Ningxia Red mengandung 15.6% protein (berat kering), sedikitnya 21 jenis mineral penting, juga vitamin B1, B3 dan vitamin C dalam jumlah yang signifikan.

Ningxia wolfberry merupakan salah satu sumber vitamin B1 natural yang tertinggi, dan berperan penting untuk produksi energi, metabolisme karbohidrat dan fungsi tiroid. Protein merupakan "bahan baku" pembentukan sel darah putih dan regenerasi sel-sel tubuh.
Ningxia Red juga diperkaya dengan beberapa essential oils, yang berfungsi membantu proses asimilasi dan meningkatkan efektifitasnya dalam menunjang berbagai sistem tubuh.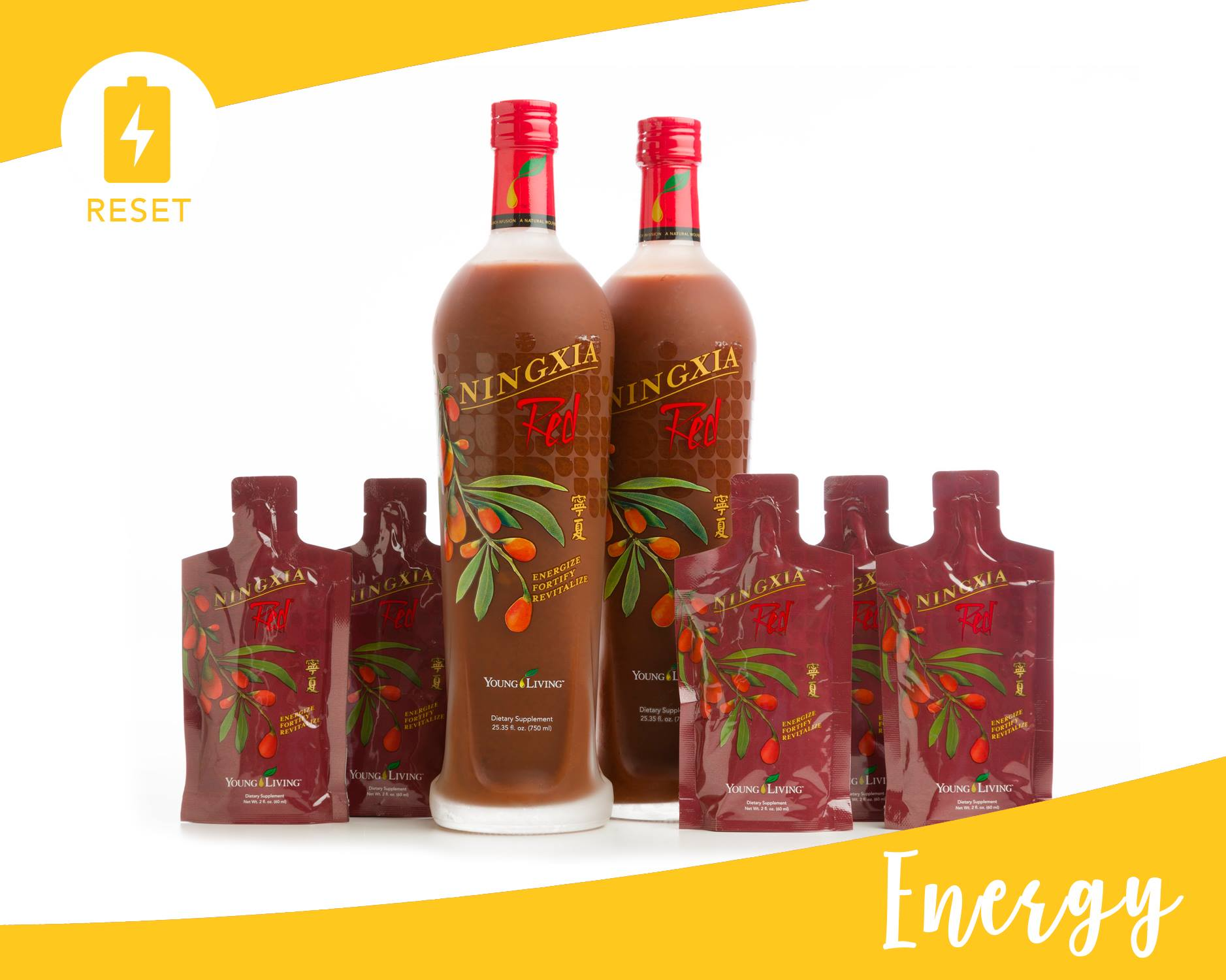 PRODUK YANG ANDA BUTUHKAN:
Minimal 30ml / per hari, atau 60ml / per hari (Dapat dikonsumsi hingga 180ml/hari, but just to see the difference, 60ml cukup dan sangat dianjurkan).

Rencanakan pembelianmu :
– 1 botol Ningxia Red berisi 750ml, cukup untuk 12.5 hari dengan konsumsi 60ml /hari
– 1 kotak Ningxia Red berisi 30 sachet (@60ml, total 1800ml), cukup untuk 30 hari

CARA PAKAI:
1.Sebelum memulai, mari meng-asses kondisimu saat ini dengan menjawab pertanyaan berikut:

– Overall Wellbeing. Apakah kamu merasa memiliki kesehatan / imunitas yang baik?
Sangat Rendah 1 O 2 O 3 O 4 O 5 O 6 O 7 O 8 O 9 O 10 O Sangat Baik

– Tingkat Energi. Apakah kamu merasa cepat lelah, atau kurang energi berketerusan?
Sangat Rendah 1 O 2 O 3 O 4 O 5 O 6 O 7 O 8 O 9 O 10 O Sangat Baik

– Mood (suasana hati, emosi). Yes, kurangnya nutrisi pada fisik juga mempengaruhi kondisi kita secara emosional.
Sangat Rendah 1 O 2 O 3 O 4 O 5 O 6 O 7 O 8 O 9 O 10 O Sangat Baik

– Ketidaknyamanan fisik
Sangat Rendah 1 O 2 O 3 O 4 O 5 O 6 O 7 O 8 O 9 O 10 O Sangat Baik

2.Mulailah mengkonsumsi 30-60 ml. Ningxia Red dalam 30 hari ke depan

3.Setelah 30 hari kembali melakukan assesment seperti di atas dan bandingkan hasilnya .
FAVORITKU DAN ANAK! Kerasa banget kl minum dan gak minum. dulu belum tau ningxia, energi selalu rendah. siang-sore rasanya gak ada energi. gitu rajin minum, rasanya kok siang-sore udah gak capek. anakku mah full energi selalu. dan imunitas serta napsu makannya jadi bagus bangeeet
(Crown Diamond Leader #1415910)
Whatsapp (+62-821-7734-4515) disini
email: deny.sentosa@gmail.com
Sudah tidak sabar ingin pakai? Silakan klik disini.
Masih ingin tanya-tanya bisa whatsapp saya atau DM saya di instagram . Grup kita adalah komunitas terdiri dari kumpulan orang yang peduli dengan kelangsungan alam, bahan yang tidak merusak ecosystem serta badan, kualitas kesehatan anak dan keluarga, dan pengembangan diri. Gabung dengan kita dalam perjalanan ini.