Dec 6, 2016 04:30 PM Central
Deny Sentosa
#ALAMI, #BERLIBUR, #BIBIR, #BROKEN, #CINNAMINT, #COCONUT OIL, #COLD, #DINGIN, #DRY, #GRAPEFRUIT, #HALUS, #HOLIDAY, #KERING, #LAVENDER, #LEMBAB, #LIPBALM, #LIPS, #MINTAK KELAPA, #NATURAL, #NEGARA, #PECAH, #ROSEHIP, #SWEET ALMOND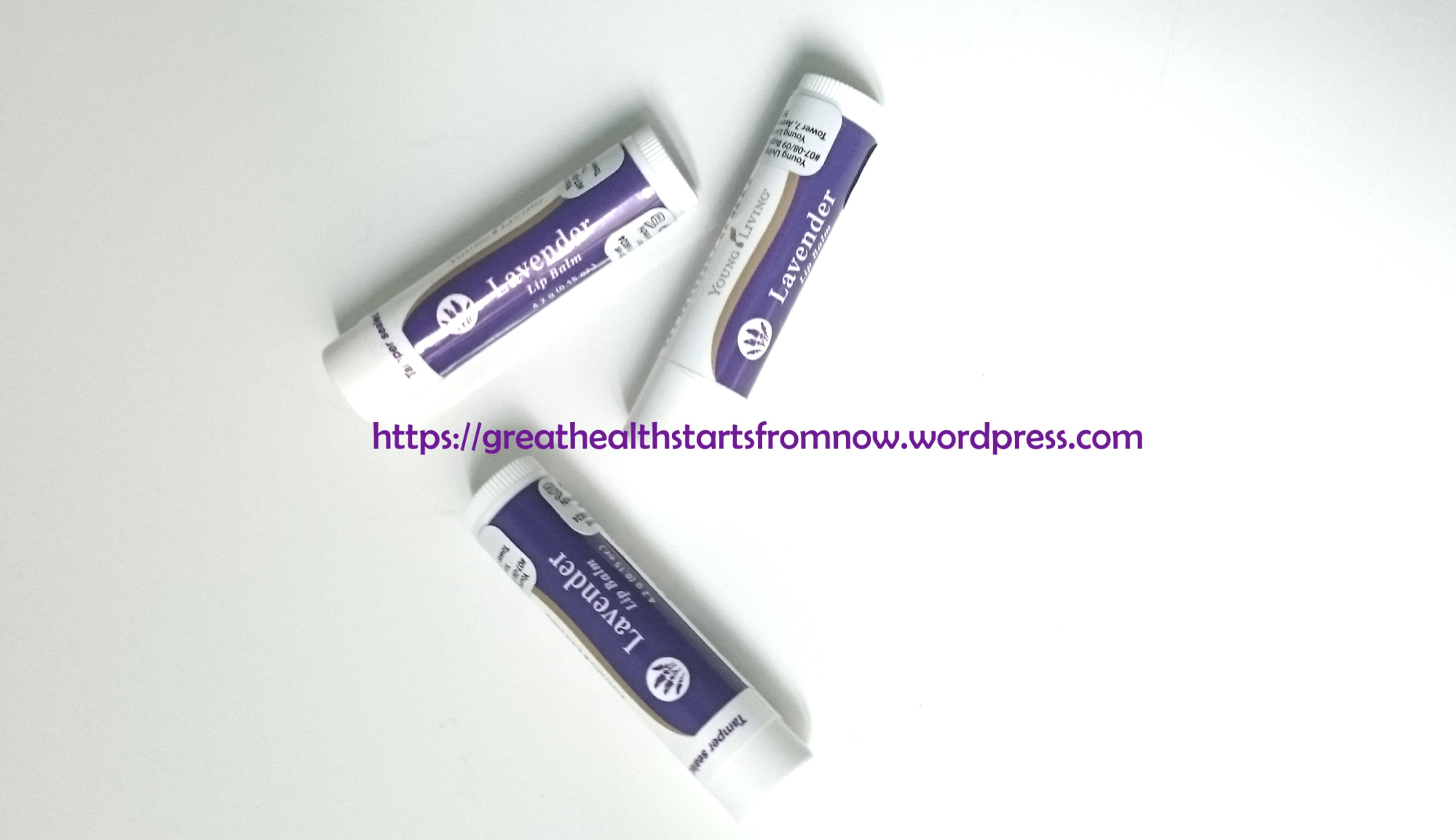 Saya banyak mendengar review bagus lipbalm Young Living. Dari lavender, grapefruit, sampai ke cinnamint. Bahkan edisi khusus Christmas lipbalm juga ada.
Tetapi, seperti layaknya orang yang tidak suka make up, pikir saya lipbalm itu lengket. Dan untuk ukurannya yang kecil (sekitar 5cm) pasti cepat habis. Dulu, ketika saya belum mengenal Young Living, saya sering mencoba lipbalm dari merk lain. Tentu saja, hanya pakai tidak sampai 10x, sudah saya simpan di laci sampai saatnya beberes dan tinggal buang karena sudah expired. Saya tidak merasa ada yang wah dengan lipbalm yang saya beli dulu.
Begitu mengenal YL, tentu saja jika bisa DIY, kesannya bisa hemat dan bisa bikin dalam jumlah banyak dan tidak takut cepat habis. Saya telah berhasil membuat lipbalm DIY disini. Dengan DIY, saya lebih tenang karena saya tahu bahan-bahan yang terkandung dalam lipbalm tersebut. Dan saya benar-benar merasa DIY saja sudah bagus. Karena bibir saya kerasa lembab dan jika saya pakai di malam hari, keesokannya bibir saya benar-benar halus dan tidak kerasa kering sama sekali.
Terus kenapa saya mau mengeksplorasi lipbalmnya Young Living? Alasannya sederhana, karena bibir anak saya suka pecah dan kering. DIY lipbalm membantu, tetapi tidak full recovery. Saya telah menunjang pencernaannya (bibir keringnya karena perutnya juga sensitif terhadap makanan tertentu), tetapi tentu saja ingin bibirnya tidak sering pecah donk. Apalagi kita berencana untuk berlibur ke negara 4 musim di musim dingin yang lagi dingin-dinginnya. PLUS udara sana bakal kering. Sering saya mendengar cerita bahwa bibir bisa pecah, perih, berdarah, dsb. Wah, saya tidak ingin itu terjadi ke saya, anak saya, atau bahkan suami saya (dia pasti minta juga ni lipbalm jika kepepet).
Karena saya orangnya suka mempersiapkan diri jauh-jauh hari, saya coba dulu Lavender lipbalm (alasan saya memilih ini diantara jenis yang lain, akan saya bahas di paling bawah). Pengen tahu donk, bener gak sih kata orang-orang bahwa ini lipbalm bener-bener bagus. Tentu saja, saya mendapatkannya GRATIS (3 buah lagi) dengan menukarkan poin Young Living saya.
Dan simsalabim….. anak saya bibirnya jadi benar-benar keliatan bedanya loh. Ini contohnya. Hanya dengan 2-3 x aplikasi saja. Ini bakal saya bawa kemana-mana deh pasti! Apalagi teman saya ada pengalaman bagus sekali dengan lipbalm ini dan tidak berhubungan dengan bibir sama sekali!
ps. jika mengecek bahan-bahan dari lipbalm ini, semuanya dari bahan alami yang bebas kimia. Kecuali untuk orang yang alergi dengan beeswax atau bahan alami lainnya, lipbalm ini aman dipakai untuk anak-anak hingga dewasa tentunya. Lebih tenang rasanya kasih pakai lipbalm ini daripada merk luaran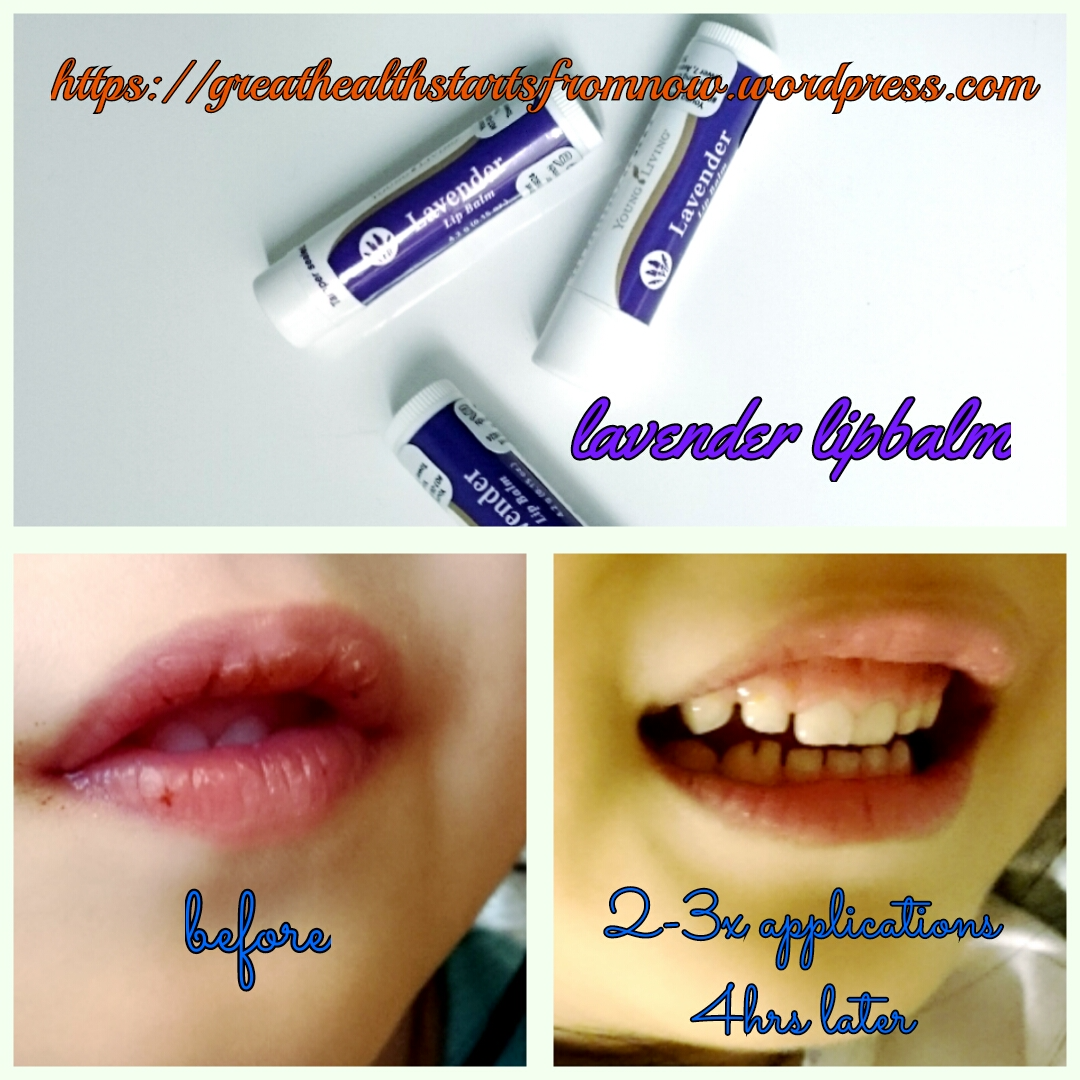 Note: ada bercak2 merah di bibir bukan karena luka, tapi karena bekas minum ningxia red popsicle. hahahaha
ENGLISH
I have heard great reviews on Young Living lipbalms. There was even exchange for similar flavor back then when Young Living only offered lipbalm trio (Lavender, Cinnamint, and Grapefruit).
Before knowing Young Living, I often bought many lipbalms from other brands. I used them at most 10x and then I put inside drawers only to be thrown away after they passed their expired dates. I didn't feel I need to apply those lipbalms constantly.
Young Living lipbalms are small (height around 5cm) and I thought it would finish fast. I have successfully made lipbalms in the past. Recipe is here. I use it mainly to keep my girl's lips moisturized because she has tendency to have dry and cracked lips. It's due to her sensitive digestive system. It did its job well, but there's still room for improvement. The DIY lipbalm does my lips justice. If I apply night time before sleeping, I will wake up with moisturized and smooth lips in the morning.
We intend to go for winter country in few months time. The weather is dry and cold. The wind can be harsh on skin (and lips). I have heard horror stories where people come back with cracked and bleeding lips due to poor protection. I need to try YL lipbalm before going! I want to be prepared.
So I went to Young Living office and got my lipbalms for FREE using my Young Living points. Hohoho, the benefit of being an essential rewards member. No hesitation, I redeemed 3 balms!
And Abracadabra….. within 2-3 applications, my girl's lips are transformed! She also loves applying this. I also apply on her itchy skin (dunno due to what… but it calms down the irritated skin). This will definitely be in my bag. I am thankful that it's small so that it's easy to be carried around even in my handphone bag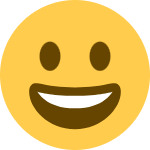 My friend has also shared her amazing experience with this lipbalm that is unrelated to lips at all! It's related to Lavender essential oil. It's really wonderful to bring therapeutic-eo-infused products out. You will experience the versatility of them.



ps. if you check the ingredients stated below, this lipbalm is made from all natural ingredients. Unless there is allergic reaction to beeswax or any of the natural ingredients stated, this lipbalm is safe to be used on kids and adults of course! Better peace of mind than outside brands!


If you want to know in details about this, you can drop me a message here or email me at deny.sentosa@gmail.com
If you are ready to purchase, you can click here I would love to support you in using the oils for yourself and your loved ones
DIFFERENCE BETWEEN 3 LIPBALMS
Lavender lipbalm

Lavender Lip Balm
soothes dry lips
, harnessing the power of Lavender essential oil and the moisturizing properties of jojoba oil and vitamin E.
INGREDIENTS
Cocos Nucifera (Coconut) Oil, Bees Wax, Simmondsia Chinensis (Jojoba) Seed Oil, Prunus Amygdalus Dulcis (Sweet Almond) Oil, Lycium Barbarum (Wolfberry) Seed Oil, Rosa Rubiginosa (Rosehip) Seed Oil, Lavandula Angustifolia† (Lavender) Oil, Tocopherol (Vitamin E), and Tocopheryl Acetate.†100% pure therapeutic-grade™ essential oil

Grapefruit lipbalm

Infused with Grapefruit essential oil, wolfberry seed oil, and antioxidants, this refreshing lip balm seals in moisture to
prevent dehydration
for smooth lips.
INGREDIENTS
Cocos nucifera (Coconut) oil extract, beeswax, simmondsia chininesis (jojoba) seed oil, prunus amygdalus dulcis (sweet almond) oil, citrus paradisi† (grapefruit) peel oil, lycium barbarum (wolfberry) seed oil, rosa rubiginosa (rosehip) seed oil.
†100% pure therapeutic-grade™ essential oil
Cinnamint lipbalm



Moisturize and protect

your lips with our all-natural lip balm. Featuring pure Cinnamon Bark and Peppermint essential oils, Cinnamint™ Lip Balm helps

prevent skin dehydration

for soft, smooth lips.
INGREDIENTS
Cocos Nucifera (Coconut) Oil, Beeswax, Prunus Amygdalus Dulcis (Sweet Almond) Oil, Simmondsia Chinensis (Jojoba) Seed Oil, Lycium Barbarum (Wolfberry) Seed Oil, Rosa rubiginosa (Rosehip) seed oil, Tocopherol, Mentha piperita (Peppermint) oil, Citrus aurantium dulcis (Orange) peel oil, Mentha spicata (Spearmint) leaf extract, Cinnamomum zeylanicum (Cinnamon) bark oil.
†100% pure, therapeutic-grade essential oil
*Do not expose to excessive heat or direct sunlight.
(Crown Diamond Leader #1415910)
Whatsapp (+62-821-7734-4515) disini
email: deny.sentosa@gmail.com
Sudah tidak sabar ingin pakai? Silakan klik disini.
Masih ingin tanya-tanya bisa whatsapp saya atau DM saya di instagram . Grup kita adalah komunitas terdiri dari kumpulan orang yang peduli dengan kelangsungan alam, bahan yang tidak merusak ecosystem serta badan, kualitas kesehatan anak dan keluarga, dan pengembangan diri. Gabung dengan kita dalam perjalanan ini.
Want to start using the product? Click this to buy.
Feel free to ask me questions in whatsapp or DM in my instagram . Our group consists of people who care about sustainability, ingredients that do not harm ecosystem and our bodies, holistic wellness in kids and family, as well as self growth. Join us in this journey.